Zoe Chant's Series Starter Set
---
Enjoy three completely standalone novels by bestseller Zoe Chant in this introductory series starter box set.
Buy Now!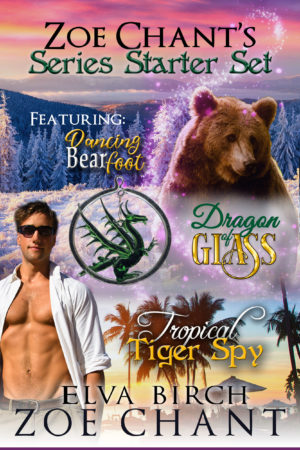 Green Valley Shifters is a gentle, found-family series featuring single dads, spinsters, and sweet second chances, in a quiet little town where shifters are secret. In Dancing Bearfoot, bear shifter Lee is just looking for a place to raise his daughter. He never believed in soulmates, but when he meets Clara's new teacher, he knows at once that he's met the woman who can make his new house a home.
Fae Shifter Knights is a hilarious portal fantasy romp with high adventure. In Dragon of Glass, Trey, fae dragon knight, protector of the realm, and defender of the fallen crown, has finally been released from his curse by the kiss from a beautiful woman (and her noble hound). His power hobbled, his dragon form embarrassingly small, he finds himself navigating a strange world of wonders like televisions, refrigerators, and ham sandwiches, absolutely enspelled by a woman who swears she isn't a witch…
Shifting Sands Resort is an epic, offbeat, addictive shifter adventure series, with tropical heat, hilarious and heart-wrenching moments, and a thrilling conclusion. Start this 10-book binge-read with Tropical Tiger Spy, where Tony finds himself investigating the mysterious disappearances of shifters from a luxury resort and meets his mate. Now he's got to solve the secrets of the island before she becomes another victim!
Like a sampler platter of sweet, delicious treats, every story has heart, humor, and hot romance, shifter heroes who aren't jerks, and heroines who aren't doormats. Each book stands alone—no cliffhangers! One-click today to start your next reading addiction!
Preview:
Click on the "Preview" button below the cover to read an excerpt of this book.