Hard Luck Hellhound
Shifter Bites, Book

---

When you're a hellhound, there's no such thing as good luck—not even your true mate showing up on your doorstep.
Buy Now!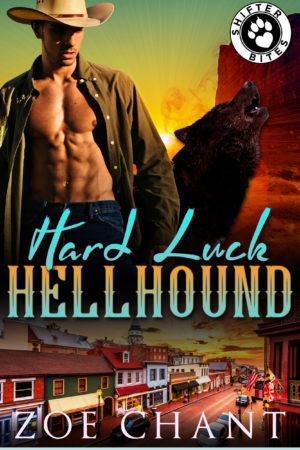 All Russ wants is to keep his inner hellhound quiet. The last time it took over his life, it left everything in a shambles. He can't let that happen again. He just has to stick with his new routine: Run his bar and look after his regulars. (And break up mice having barroom brawls. Shifter towns can get… complicated.)
Then Anita Sanchez's car breaks down right outside his door. She's sweet, sunny, and his true mate—and he needs to keep his hands off her.
Anita's determined positivity covers an awful secret; thanks to an ancient family curse, whenever anyone touches her, it burns like hellfire.
But when Russ touches her, it feels like heaven...
She's spent years trying to avoid getting hurt. Now she's determined to get a life. She wants to start it here—and she can't imagine it without him. Because as much as she already loves this mysterious small town, she can't help loving him even more.
No matter what Russ thinks, Anita knows he's not a monster. He's the best man she's ever met, and she's going to prove it to him.
Hard Luck Hellhound is a short, sweet shifter romance with plenty of warmth and humor. If you like quirky small towns, cowboy boots, and true love that conquers all, one-click on Hard Luck Hellhound today!
Preview:
Click on the "Preview" button below the cover to read an excerpt of this book.