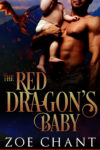 Shifter Dads, Book 1
She's vowed to give her baby a better life—all by herself. Until she meets him.
---
Shifter Dads, Book 2
His worst nightmare could be a dream come true...
---
Shifters Dads, Book 3
A single mom in danger… …and a Marine veteran griffin who'll stop at nothing to protect her.
---